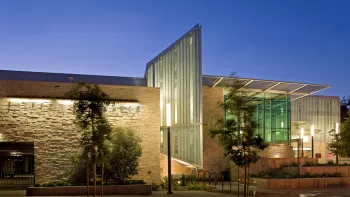 The Architectural Division provides design and project management services for new and existing public buildings and open spaces. This includes sustainable design; modern, historic, and renovation architectural services; interior space planning; landscape architecture; parks and recreational facility design and construction; alternative fuels infrastructure; and urban design. The Architectural Division also administers the Proposition K Program, a competitive grant program that focuses on non-profit organizations and public entities that support children. 
Landscape Architecture Group Projects
The Elysian Valley Shared Path Improvement Project in Council District 13 will provide pedestrian safety mitigation measures to a portion of the existing LA River Bikeway in the Elysian Valley Neighborhood. The Project is located above and along the west bank of the LA River, between Dallas St. and Barclay St.