Glendale-Hyperion Viaduct Complex Improvement Project, Phase 2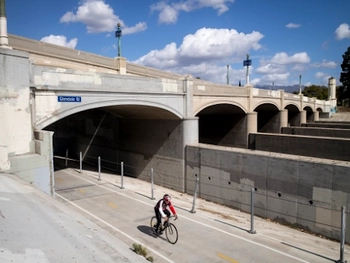 The Glendale Boulevard – Hyperion Avenue Viaduct Complex, known locally as the Glendale Hyperion Bridge, was completed in 1929. The structure crosses from Atwater Village to Silver Lake, crossing over the 5 Freeway, the Los Angeles River and Riverside Drive. The bridge is located in Council District 13, which is represented by Councilmember Hugo Soto-Martinez and in Council District 4, represented by Councilmember Nithya Raman.
Built in the late 1920s and early 1930s, the Glendale Hyperion Bridge complex has been designated as a Los Angeles Historic-Cultural Monument.
Glendale-Hyperion Viaduct Complex Improvement Project, Phase 2
The $80 million Project, led by the Bureau of Engineering, will upgrade the structure to withstand an earthquake event, restore the bridge's historical appearance, and improve circulation and safety for people driving, biking, walking, and rolling.
Scope of Work
This is a long term project that will take 5-6 years to complete.
The key elements of the project include:
Seismic retrofit to make the bridge safer

Widening the bridge to allow for access for people walking and biking and ensuring ADA accessibility

Connections to the LA RiverWay walking and biking path

Restoration and preservation of historic elements

Stormwater capture

Realignment of I-5 northbound off-ramp to allow for both east and west travel along Glendale Boulevard
The Bureau of Engineering is preparing to seismically retrofit and rehabilitate the existing viaduct complex along the historical corridor of Hyperion Avenue and Glendale Boulevard. 
The project will include widening of the bridges, streamlining of the approach roadway, adding connections to the LA RiverWay bicycle and pedestrian path, and upgrading various elements to meet current infrastructure standards. 
Work also includes re-alignment of I-5 northbound off ramp, adding bicycle and pedestrian access ramps with an adjacent mini green space.  A bike lane will be added to each side of Hyperion Avenue within the project area as part of roadway re-configuration.
While implementing this project, the project aims to preserve all historical elements: replication of historical railing, preservation of historical pylons, and refurbishment of existing light poles. 
The project also includes the creation of an infiltration basin to protect the water quality of the LA River.
Project Timeline
It is anticipated that the project will take 5-6 years to complete. 
AT NO TIME WILL THE BRIDGE BE CLOSED FULLY TO TRAFFIC. 
Spring 2023 - Contract awarded to contractor
Winter 2023 - Contractor mobilization and groundbreaking
Spring 2024 - Project starts
2029 - Project completion
PLEASE NOTE
For safety reasons, construction primarily takes place during the dry season in the river, which runs from April 15th to October 15th

There will be various traffic control phases throughout the project. AT NO TIME WILL THE BRIDGE BE FULLY CLOSED TO TRAFFIC

In preparation for this project, the City built the adjacent Red Car Pedestrian Bridge to provide pedestrian and bike access over the LA River.