Engineering Completes George Wolfberg Park at Potrero Canyon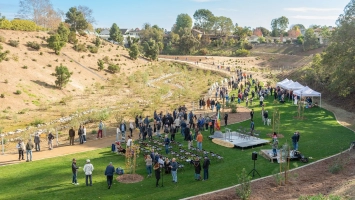 On December 10, 2022, after decades in the making, elected officials and community members came together to cut the ribbon and celebrate the new George Wolfberg Park at Potrero Canyon, a project led by the Bureau of Engineering.
The $12 million park project, located in Pacific Palisades, is located above Will Rogers State Beach and the Pacific Coast Highway. Since severe erosion was first detected in 1933, about a dozen houses have tumbled into Potrero Canyon. By the early 1990s, many more had lost backyards or garages due to the natural deterioration.The 46-acre natural passive park stabilizes landslides that have occurred throughout the canyon's history and restored a natural riparian habitat through a series of 10 basins in the park.
The Bureau of Engineering team designed and managed construction of the park. Some highlights of the project include 1.75 miles of walking paths, benches and interpretive signs with information on the park's history and habitats. The park also includes 12,900 native Californian plants, including 530 trees, a demonstration garden with locally native planting, a restroom and a pump station along Pacific Coast Highway that will clean and recycle stormwater through the 10 basins to provide irrigation water during the dry months.  
The park was named after George S. Wolfberg, a Pacific Palisades community volunteer who devoted his life to the people and open spaces of Los Angeles. Wolfberg served on local boards for over 40 years and led a collaborative, community-driven effort to support the development of the park. 
Engineering's Geotechnical Division was the project manager for the project with support from Engineering's Landscape Architecture Division. 
This project won the American Society of Civil Engineers' Geotechnical Engineering Award at the Metropolitan Los Angeles Brank Awards.