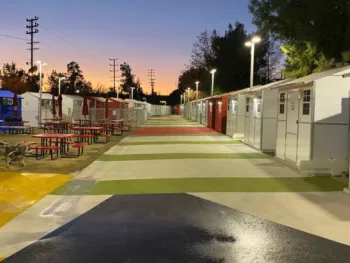 Engineering Continues to Lead Design and Construction of City's Temporary Housing for Unhoused Angelenos
October 1, 2022
The  City of Los Angeles' Bureau of Engineering has been the lead in the planning, design and construction of temporary interim housing and permanent services facilities for our City's unhoused population since 2018, when Mayor Eric Garcetti declared an emergency shelter crisis.
Engineering has been working with various City departments, agencies and Council Districts across Los Angeles to create various housing to address homelessness. The various types of housing include congregate living, double and single occupancies, as well as possible family units.
In September 2018, the first congregate living model was built as A Bridge Home project called El Puente in the El Pueblo area. This pilot project provided 45 interim beds and shared hygiene amenities.
In 2019, Prop HHH, a proposition championed by Mayor Garcetti to allocate funds for homeless housing and services, funded 3 Navigation Centers, which were built in the span of two years. The Navigation Centers cater to a demographic of people who reject housing but are in need of hygiene, laundry and case management services and storage. Prop HHH also funded a women's shelter in Council District 4. This building, a decommissioned library, had a trauma-sensitive design, and provides case management and hygiene and laundry services to 32 women.
In March 2019, the first A Bridge Home project was completed in Council District 13. The Bureau of Engineering built 16 locations in multiple Council Districts throughout LA over a period of 16 months.  ABH Projects are a congregate living model, with men and women separated within a membrane structure, giving each individual a sleeping module with a bed, cabinet; pets are allowed. The amenities on site are hygiene, laundry, admin services for case management and outdoor sitting areas with shade umbrellas. A total of 1,360 interim beds have been provided. 
In January 2021, Navig8, the last of three Navigation Centers using HHH funding was built in Council District 8 and the first Safe Sleep site was completed, which provided single or double occupancy tents, daily meals, case management, and hygiene and laundry services. 
The first Tiny Home Village was built in Council District 2. These facilities have single or double sleeping accommodations, and provide case management, hygiene and laundry services, and daily meals. There is a low barrier to entry, and there are amnesty lockers and a pet area. Exterior communal spaces are also provided.
In 2022, the 10th Tiny Home Village in Council District 14. Engineering has now delivered 10 villages within 14 months, providing a total of 1,247 interim beds. We have also assisted in building a Home Key site in Council District 12. The site is a congregate living model and offers case management, hygiene and laundry services, and daily meals. Finally, in Council District 1, we opened our first residential project, New Beginnings. This has multiple occupancy accommodations that could accommodate families, case management, hygiene and laundry services, amnesty lockers, pet spaces, and communal areas.
As of Fall of 2022, Engineering has delivered a total of 36 projects for Homeless Services and Housing throughout the City of Los Angeles for a total of 3,693 interim beds. ###