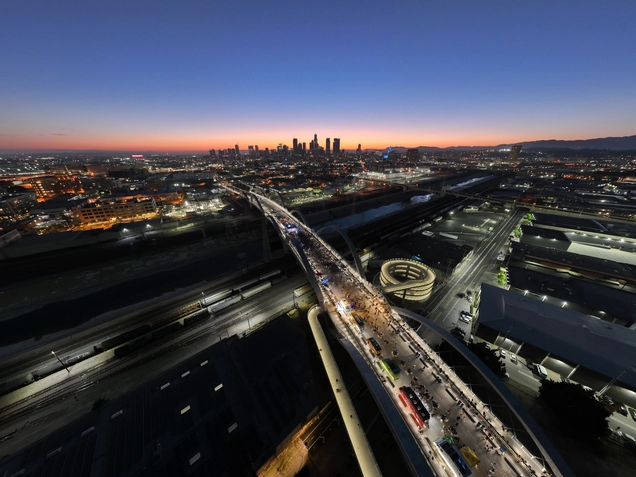 On July 9, 2022, the $588 million Sixth Street Viaduct, the largest bridge project in the history of Los Angeles, was opened to the public for a two-day community celebration featuring music, fireworks, local vendors, 100 Years of Cars and other activities and events. The weekend was capped with a bike and pedestrian-only afternoon that brought thousands of Angelenos out to experience the iconic new bridge.
The bridge's 10 sets of arches are lit each night with LED lighting that can change colors. The viaduct features ADA-compliant, wide sidewalks, protected bike lanes and a helical ramp and other stairs that connect the viaduct to the ground below.
In early 2023, the Bureau of Engineering will begin construction on a 12-acre park underneath the bridge that will features sport fields, the Len Hill Arts Plaza, an amphitheater, water elements, skate and dog parks and much more. The park is expected to be completed in two years.
The Sixth Street Viaduct was paid for by the Federal Highway Administration, with additional funds from the CA Department of Transportation and the City of Los Angeles.